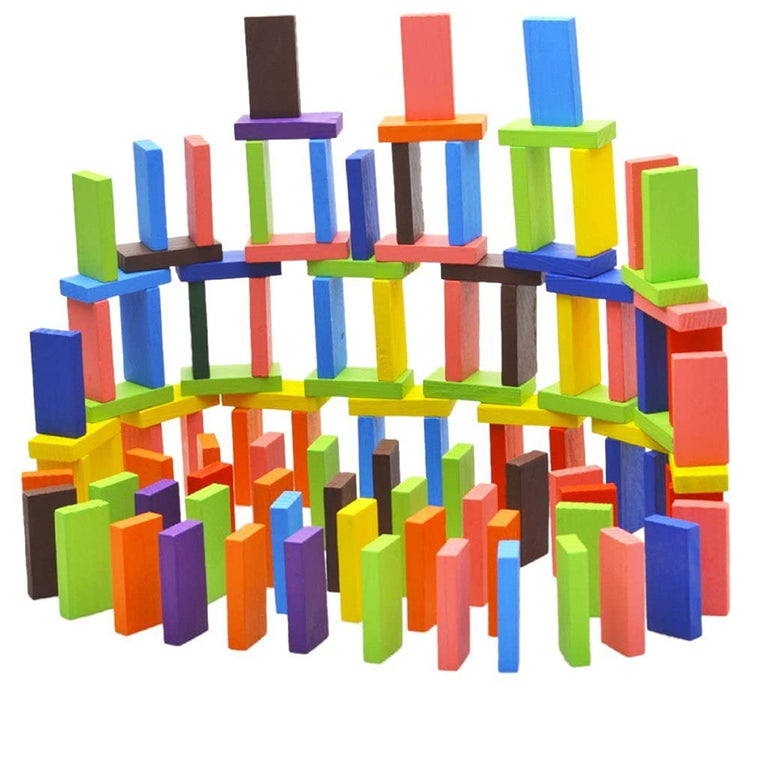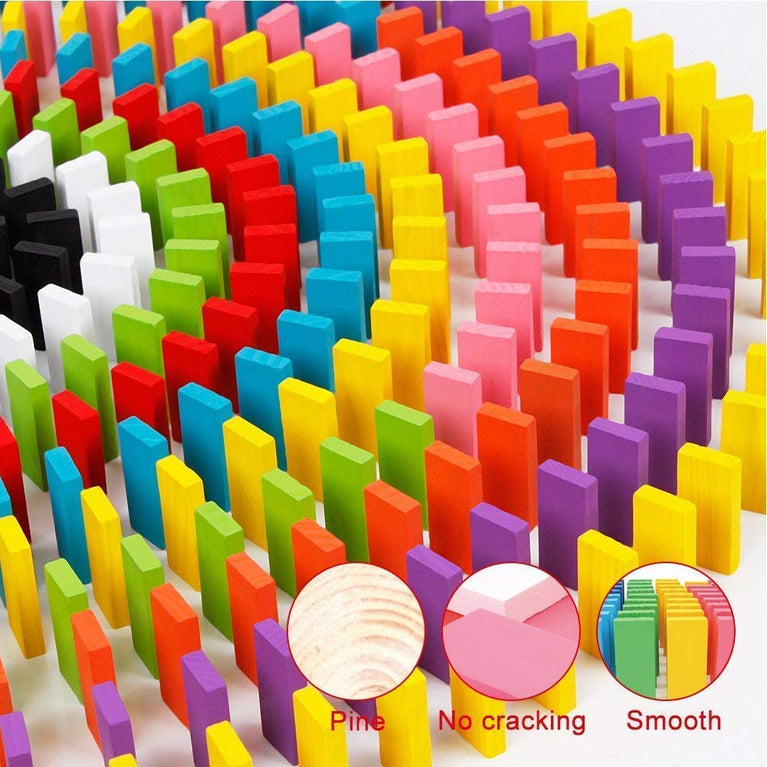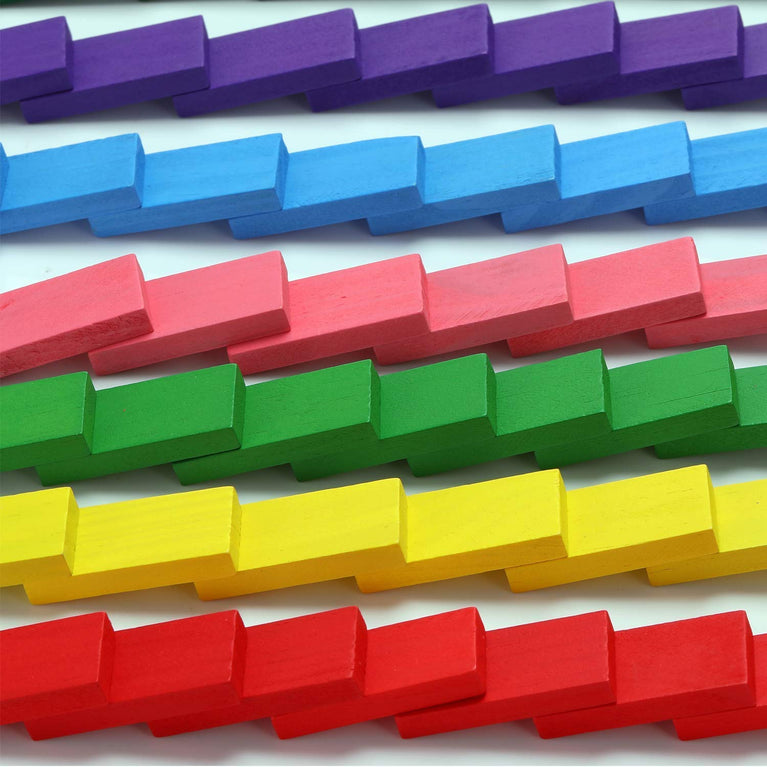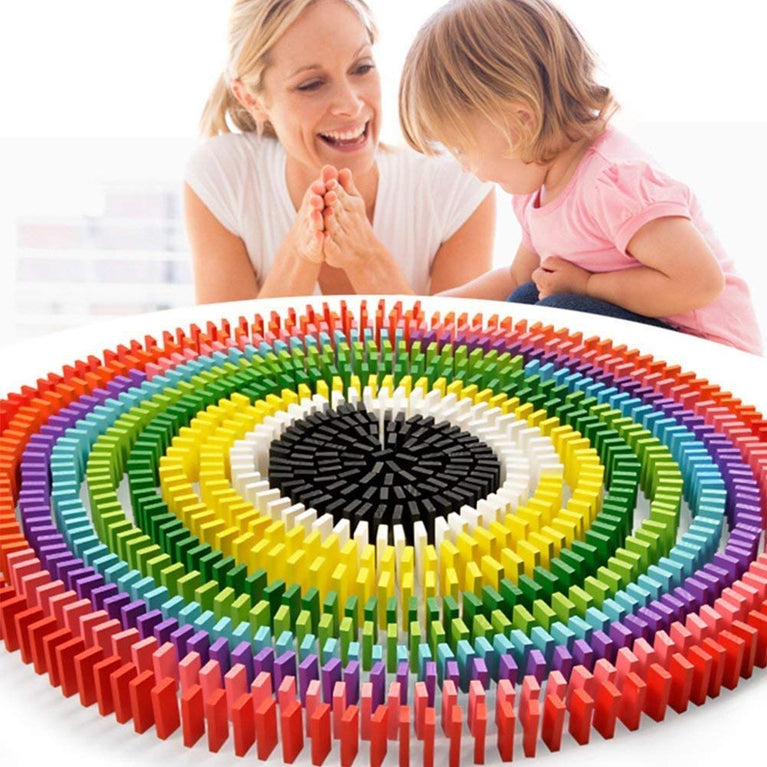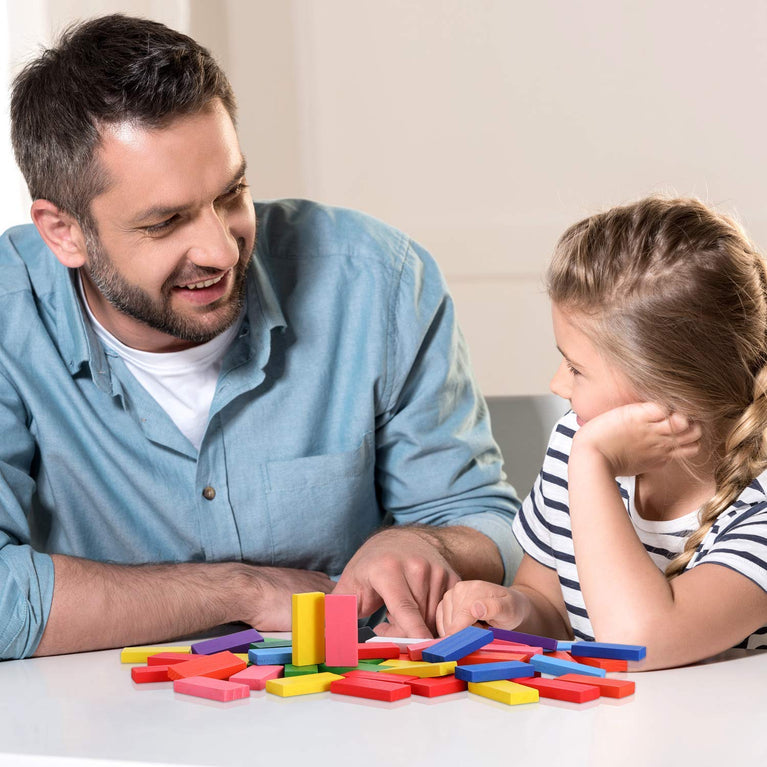 This 120-piece Wooden Domino Blocks Set is the perfect educational play toy for kids. It helps to develop hand-eye coordination, problem-solving skills, and encourages creative thinking. The set includes 12 vibrant colors and is made of high-quality wood for durability. It's the perfect game for family fun and a great way to teach kids about numbers and colors. Get your kids this fun and educational game today!
 About this item
Set includes 120 wooden domino blocks in 12 different colors
Educational play toy that helps develop math and logic skills
Suitable for children of all ages
Lightweight and easy to handle for little hands
Helps promote creativity and imagination
Can be used to build structures or as a domino racing toy game
Enhances problem-solving skills and cognitive abilities
Made of high-quality and non-toxic materials
Sturdy and durable construction for long-lasting play
Multi-color design that engages children's attention and curiosity
Provides hours of fun and entertainment for children and adults
Can be used for homeschooling or classroom use
Classic and timeless design that never goes out of style. 
CREATE CHAIN REACTION
The Game Begins with the Throw of Dices.
Stack the wooden blocks in a sturdy tower, then take turns pulling out blocks one by one until the whole stack crashes down.
The last one to put a block on without making it fall is the winner.
Stacking colorful dominoes one by one to make different styles and exercise kids' balanced ability.
It is a must-have toy in the growth of every child, funny and interesting for your little one.
This wooden Domino set can also play as a stacking and building toy. Play with real toys and use your imagination and develop so many crucial skills.
In the process of building a model, child can identify a variety of colors, master the structure of space, to improve the child's creative thinking ability.
Wooden dominoes can develop children's logic, color perception, and hand-eye coordination.
CREATE VARIOUS COMBINATIONS
Putting some machine blocks to build more various domino routes. It will increase the challenge and inspire kids' imagination.
Your child will get better at placing the dominoes, he learns how to control his hand better at placing the dominoes as he frequently plays.
EXCELLENT DOMINO BLOCKS
Great and super fun toy for your kids to play with, Set up and stack the Ultimate domino run then start the chain reaction fun by knocking it all down in amazement.
CREATIVE LEARNING TOY
The dominoes set can improve children's operational ability as well as exercise the kid's structural space imagination, colorful and beautiful appearance can stimulate their brain and thought development.
CREATE DOMINO ART
This wooden Domino set can play as a stacking and building toy. Play with real toys and use our imagination and develop so many crucial skills.
DEVELOPS SPATIAL AND TACTILE SKILLS
It will also help teenagers to develop math, science, spatial and tactile skills. Domino blocks are an interesting game to play, push one of them.
PLAY AND LEARN SIMULTANEOUSLY
It will have a chain effect, teenagers could learn something from this game. This toy requires a tremendous amount of hand-eye coordination, thus a perfect material to practice such skill.
CULTIVATES MATH SKILLS
Excellent for use in educational math games: Counting, Adding, Subtracting, Multiplication. Also learning valuable skills of patience and developing imagination.