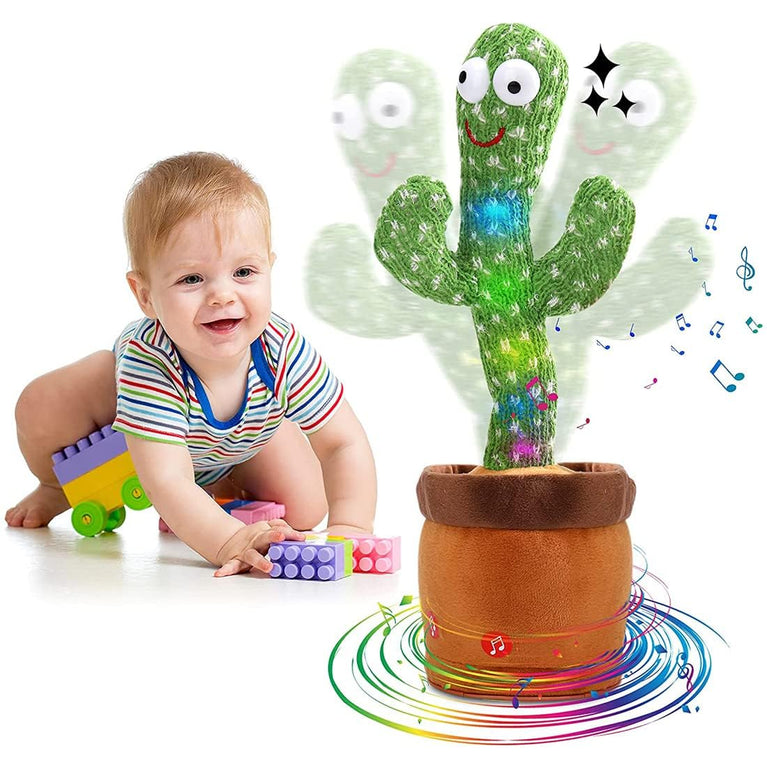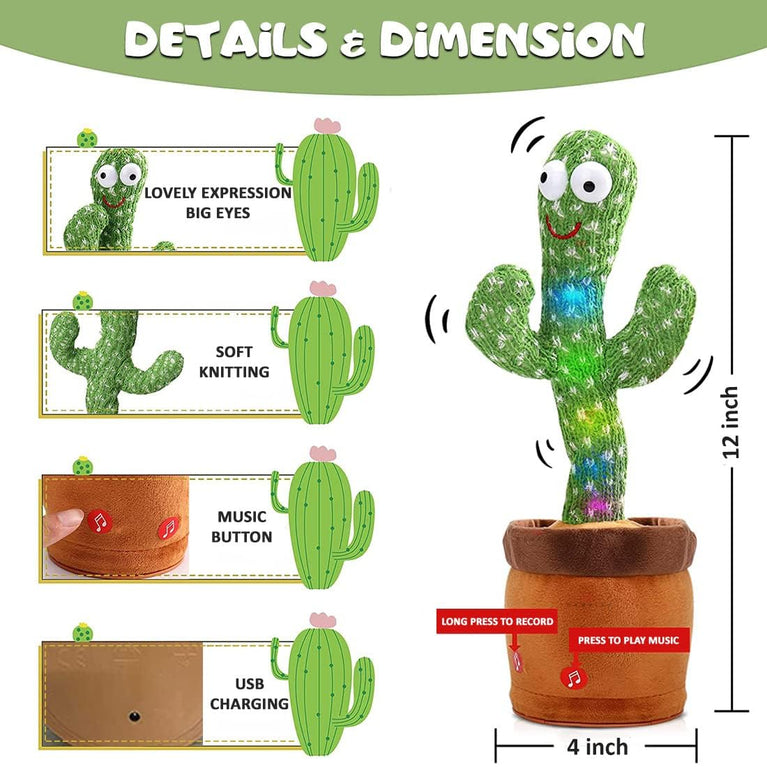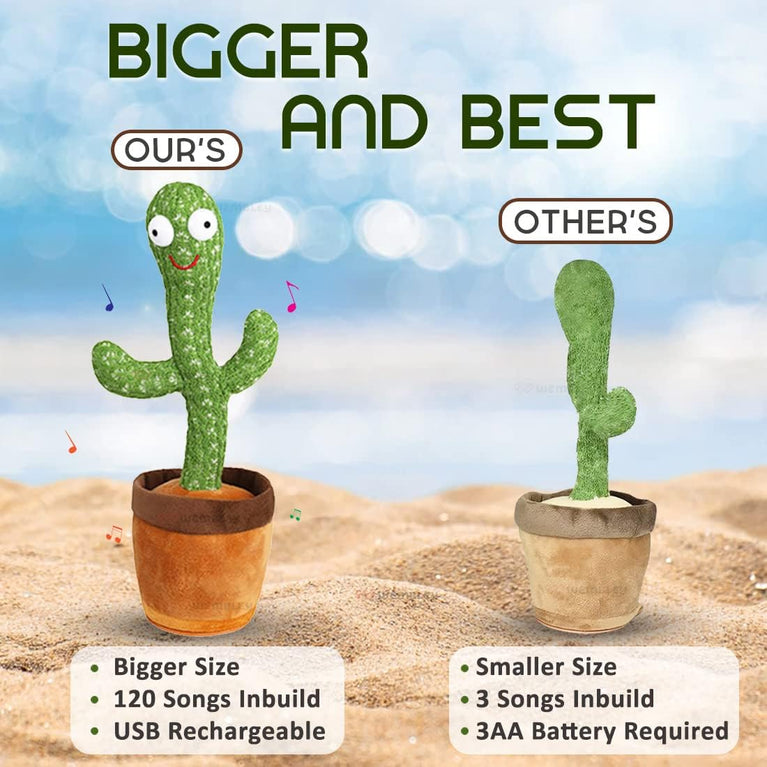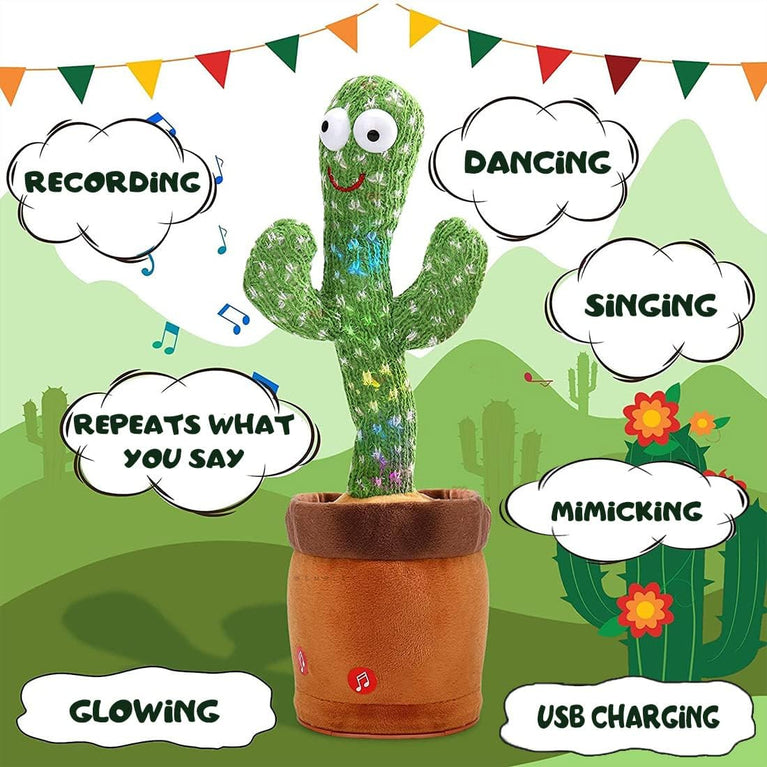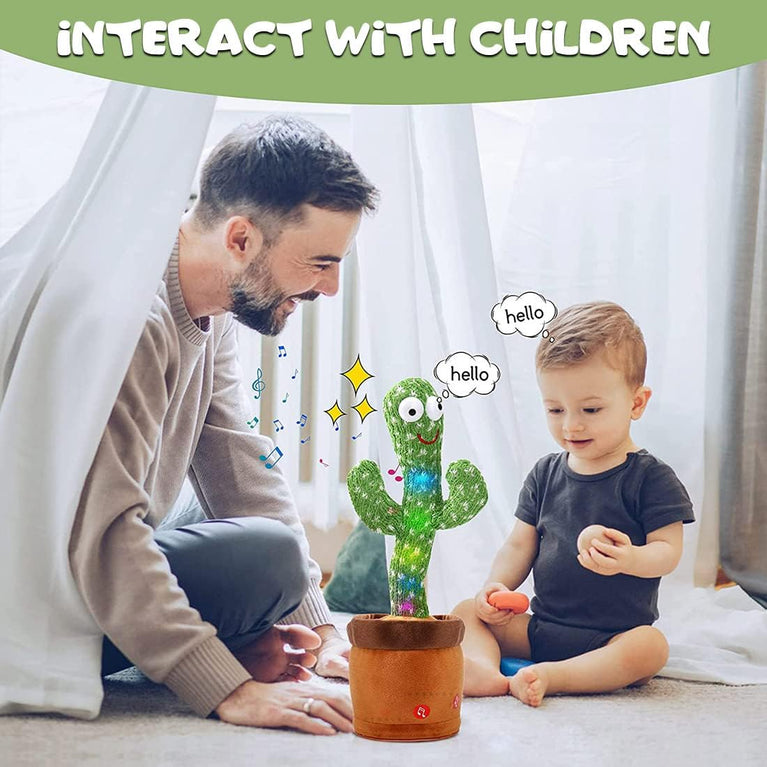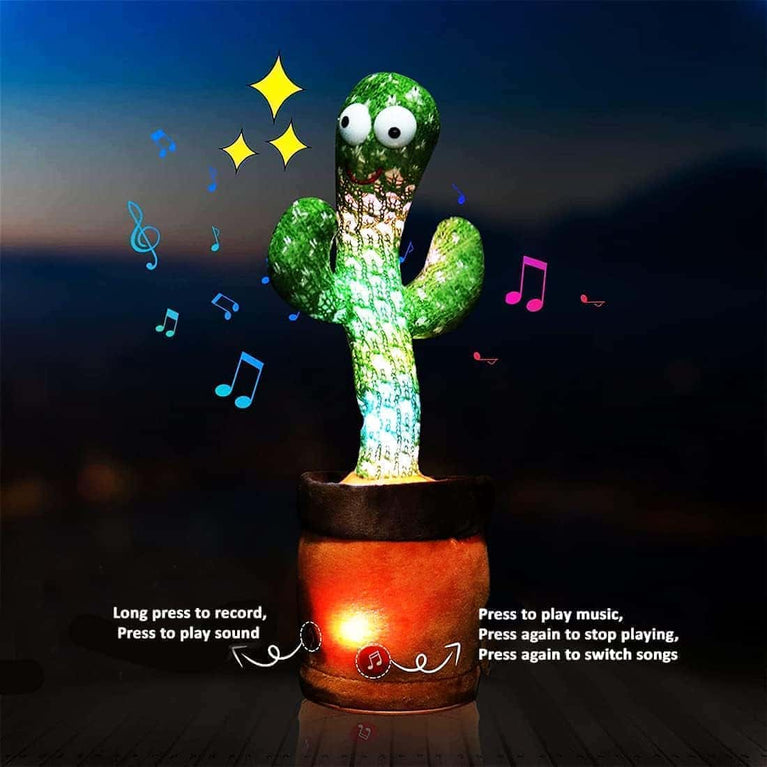 This Talking Cactus Baby Toy is perfect for kids! It can sing, wriggle, record and repeat what you say. It's a funny and educational toy for children to play with and a great home decor item. Get this Dancing Cactus Toy now and let your kids have hours of fun!
Product Description
Dancing Cactus Repeat What You say and Sing Electronic Plush Toy for Kids Funny Toys Very Funny Sing+Repeat+Dance+Recording+LED
Dancing cactus toy can repeats what you say!
The singing and dancing cactus plush toy likes to play with you during the day and night, the talking cactus toy will emit colorful lights and play soft music
This dancing cactus plush toy electronic dancing cactus created a lively and warm atmosphere in your home
The USB charging multi-functional dancing cactus
Makes happiness everywhere
It can sing more than 120 cheery songs, bringing your child a happy time in a lifetime, help you take care of your children and give you more time to do other things.
The USB Charging design for saving you the trouble of buying installing and small parts from falling off when replacing the battery, just need to charge the talking cactus toy for half an hour, turn on the switch, and it can be used for a long time.
Dancing Cactus Toy, Talking Game Cactus Toy, 120 Songs Talking Dancing Cactus Toy Can Sing, Talk, Record and Repeat What You Say Decor for Kids & Adult
Dance Like a Pro
This product uses non-toxic and harmless soft plush fabric, the fabric is comfortable and will not cause any harm, children can play with confidence. The bottom of the electronic Tik Tok cactus toy is plastic, so it can stand firmly on the table.
This childhood education toy cactus mimicking cactus toy is made of superior three-dimensional effect knitted fabric, soft and comfortable in touch and will not cause any harm to human skin by playing baby cactus toys with confidence.
Other Features
Can Sing 120 Songs

Repeat what you say

Can dance for you

Glow in the dark

Mimic your voice

Record your voice

Talk with you
Dancing Cactus Toy, Talking Game Cactus Toy
Upgraded Funny Dancing Cactus Repeats What You Say. It will Record, Repeat ,Talk, Glow, Wiggle, Mimick, Dance & Sing .There are 120 songs in many language it can sing. It can record what you say and repeat your words and swing its body with music rhythm. It will twist his body and glows when singing. This cactus toy can repeat your words, and the internally self-contained LED lights make it glowing,and also has a recording function.This dancing cactus toy can't adjust volume.
Dance with the Cactus Toy
With the gentle music,kids can dance with the cactus.The cactus can draw their attentions and enhance their enthusiasm.Play with it,kids can spend a happy time.
Happiness and Joy
With the Cactus Toy,parents can interact with the kids.Parents can better guide children's development and enhance Parent-child relationship.
Interactive Toys for Kids
The toy can dance, sing, move, turn around. The best birthday gift for kids. Cheerful music and dancing are very suitable for creating a pleasant atmosphere and suitable for parties.
Perfect gift for Kids
Perfects gift for your kids or friends. This funny toy will definitely make people who receive it laught! It can record what you say and keep playing. Dancing Cactus Plush Toys, Toys for Babies Toddlers Kids 3 Months and up, It can slso as a room decoration. Cheerful music and dancing are very suitable for creating a pleasant atmosphere and for hosting parties. Gifts for 1, 2, 3 Year-Old girls and boys. It is also a nice adults stress relief toy and educational toy for kids.
How to use!
HOW TO USE
1. Charge it for more than half an hour. At the bottom of the cactus toy is the charging unit.
2. Press the black button at the bottom to "On" the item
3. Press the left button the cactus will repeat your say, long press for 15 sec, opens the recording mode.
4. Press the right switch to play music and then press it again to switch music.